|
November 24, 2014
Happy Holidays from me to you!  I can't believe that I'm already saying that, but it's true…the holiday season is upon us and the Black Friday Specials are already flying around the internet and in the local ads.  So in keeping with the spirit of the holidays, I'm going to PLAY BIG by offering YOU, the entrepreneur or small business owner, something UNBELIEVABLE.
This is the FIRST TIME that I've ever done this and it's for a LIMITED TIME only.  I want to offer you TEN INTERVIEWS that I recently completed for my Dare to Play BIG video summit, for FREE! (more…)
|
August 7, 2014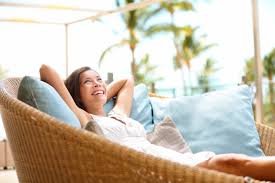 There's no denying the rat-race that our society has created in order to get ahead. Whether you're creating a business, currently a small business owner or working at a job to make ends meet, there's an epidemic of those who believe that the harder you work, the greater success you'll have.
But, what if they're wrong?
What if the less you work, the more you make and the more success you have? (more…)
|
June 2, 2014
It happens to the best of us, and it seems to happen even more, to those of us who fall into the category of right-brain, creative thinkers. Our minds race, confusion sets in, we lack clarity and we have a feeling of all-around overwhelm.
No matter what we do, we can't seem to take the next step towards our dream, our desire, or the next thing on our to-do list. Often times, because we're not even sure what the next step should be.
It's a classic case of entrepreneurial-ADD, creative mind-block or just plain ol' feelings of paralysis.  Sound familiar?
Yes, we all get stuck sometimes! (more…)